// //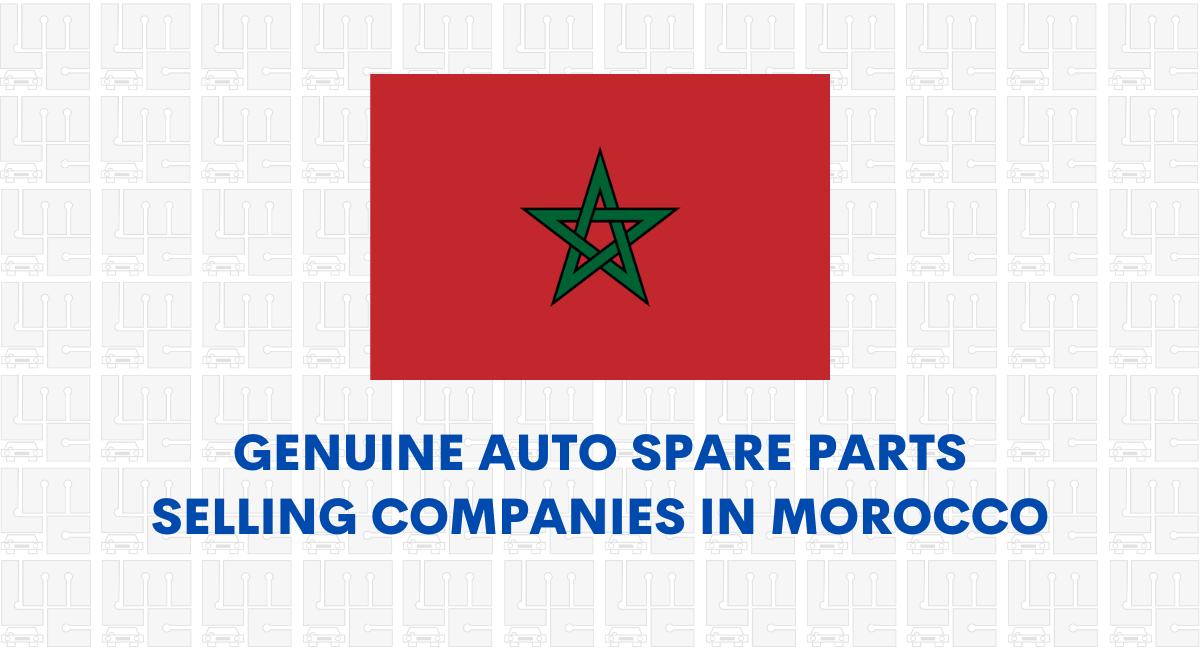 Genuine Auto Spare Parts Selling Companies In Morocco
Looking for the best Auto Spare Parts Selling Company In Morocco!!! Don't worry, now you have landed at the page where you can get all the information about the best and the most reputable companies that sell automobile spare parts in Morocco.
The manufacturing sector in Morocco is highly developed, and as a result, many businesses there make replacement parts for a wide range of companies and uses. These consist of electronic, machinery, and automobile parts. With numerous companies exporting their goods to other nations in Europe and beyond, the country also has a robust export market for spare parts in Morocco. The market of Morocco also has a large number of suppliers of spare parts for imported goods like machinery and vehicles.
When it comes to finding reliable and genuine auto spare parts, it's crucial to trust a reputable company that prioritizes quality and customer satisfaction. In Morocco, there are numerous auto spare parts selling companies, but not all can deliver on their promises. In this blog, we will explore the top genuine auto spare parts selling companies in Morocco. From their extensive product range to their commitment to authenticity, we will guide you toward the most trustworthy sources for all your automotive needs. Say goodbye to counterfeit products and embrace peace of mind with these reputable companies.
Here are some of the following best manufacturers and Auto Spare Parts Selling Companies in the market of Morocco
SOULAYMANE PIECES AUTO
Auto Hall
Akwel Automotive
AutoFacets
Garage LABM
This is not the complete list of all the manufacturers and sellers of automobile spare parts in Morocco. The list is long and there are many other distributors as well in the market of Morocco.
1. SOULAYMANE PIECES AUTO
SOULAYMANE PIECES AUTO is an auto parts distributor and importer in Morocco. It exclusively sells products of the highest caliber made by well-known equipment manufacturers around the world. For a number of car types and models, they offer a wide selection of components, including engines, gearboxes, suspension parts, electrical parts, and body pieces. They also have a group of professionals on staff that can help consumers identify the appropriate parts for their automobiles. Check out their website if you are looking for spare parts for your automobile in Morocco.
2. Auto Hall
For more than a century, The Auto Hall Group has been involved in Morocco's automotive industry and multi-brand automobile marketing. Starting with the first car being driven on Moroccan roads at the turn of the 20th century and continuing with the preservation of long-term alliances with the biggest worldwide manufacturers. The Auto Hall Group's history serves as a testament to its knowledge of the Moroccan auto industry.
3. Akwel Automotive
Fluid Management, Mechanisms, and Structural Parts for Electric Vehicles are three areas of specialization for Akwel Automotive, a maker of automotive and heavy goods vehicle components. They create, produce, and market high-performance products and systems using cutting-edge industrial and technological know-how in mastering the application and processing of materials and mechatronic integration.
Their knowledge enables them to provide their customers across the globe with increasingly competitive solutions that will increase the dependability, environmental friendliness, and driving enjoyment of your automobiles. If you want to know more about them just visit their website.
4. AutoFacets
AutoFacets are the dealers, suppliers, and wholesalers of automobile parts. In today's aftermarket, companies who carry parts will have a substantial competitive edge if they have the appropriate goods, at the right pricing, and in the correct numbers in each location.
They deliver the below-mentioned points to their customers in Morocco.
Deliver top-notch services to their customers
Boost client loyalty and satisfaction
Accelerate the process of estimation and repair
Utilize e-Commerce platforms to sell more and more products to their customers.
If you want to know more about their products in Morocco, visit their website.
5. Garage LABM
Garage LABM supports vehicle repairs of all dealer brands, both for interventions on the mechanical system and those on the electronic system.
They look for the origins of the breakdown, which can be multiple, and then proceed to repair the car of their customer.
All repairs are carried out by their experts in their unit workshop, as soon as possible. All the steps taken on their customer's vehicle are communicated to their customer, in order to guarantee a quality service.
They offer their customers a premium body repair service. They use the latest techniques and offer tailor-made paintings. Benefit from the renovation of their customer's motor vehicle at the best price.
Garage LABM's team of bodybuilders of all brands is there to inform the customer about the customer's painting work. To know more about them just visit their website. They have the know-how and techniques to fully satisfy the needs of their customers in Morocco.
Your car's bodywork is susceptible to damage from regular use.
Conclusion
When it comes to purchasing auto spare parts in Morocco, it's essential to prioritize genuine products from reputable companies. By choosing reliable and trustworthy sellers, you can ensure the longevity and performance of your vehicle. From established companies with a proven track record to those offering a wide range of authentic parts, Morocco has several options for auto enthusiasts. By making informed decisions and opting for quality over shortcuts, you can safeguard your vehicle's integrity and maximize its lifespan. So, next time you're in need of auto spare parts in Morocco, remember to choose from the genuine sellers highlighted in this blog for a worry-free experience.
We hope that this LMC guide to finding the best deals on spare parts in the market of Morocco will help you in getting the best deals. You should only choose OEM products if you are using spare parts. We sincerely hope that you have found this resource. Check out Laxmi Motor Company's product line to purchase genuine replacement components. And be certain to agree on an agreement with us. All of our spare parts are exported to Morocco and many other nations.