// //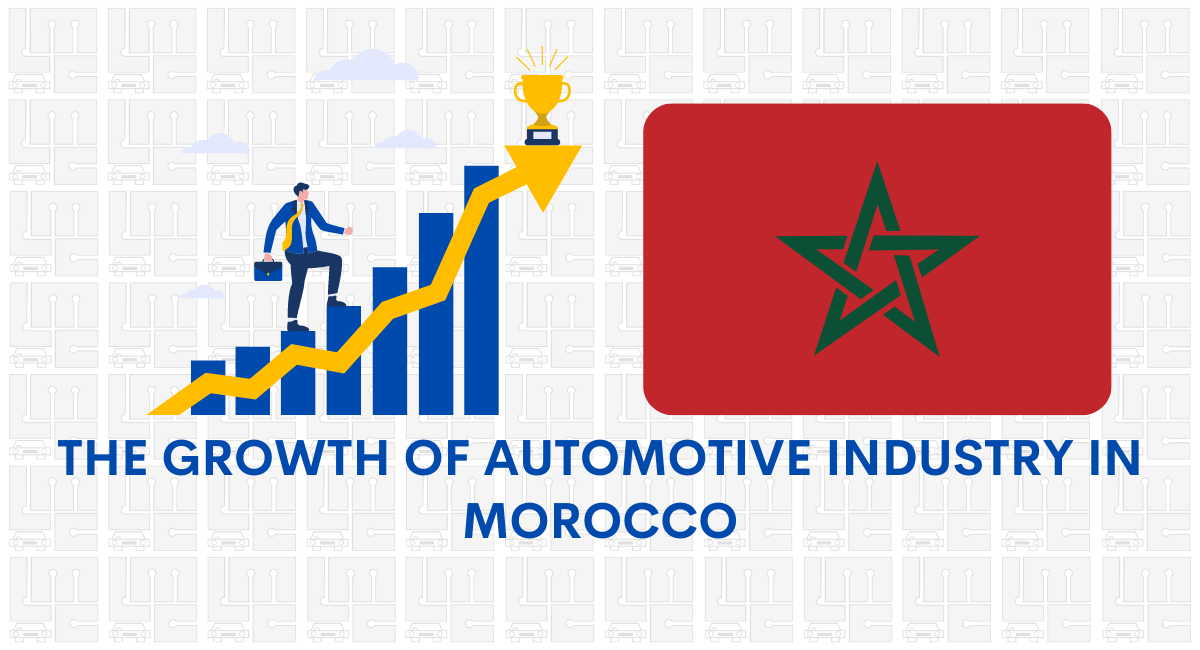 The Growth Of Automotive Industry In Morocco
Morocco's automobile industry is advancing significantly. There is no denying that Morocco's automotive industry is a very powerful business, and the country is quickly becoming a regional benchmark in this field. Indeed, it has been a day of immense significance, beginning with a royal charter that highlighted the significance of the Moroccan industry in general and provided a path for the ensuing years. Within the industry, the vehicle sector is a crucial one that has had exponential growth in output over the last ten years. The automotive industry currently accounts for 10,000 million euros in exports, making it the biggest export sector through 2021. Considering the increase in phosphate prices today, the difference is 5 billion euros. Morocco's automobile industry is significant; it generates more than 200,000 million euros annually and employs 200,000 people. We currently have three manufacturers in Morocco: two very large ones, such as Renault and Stellantis, and a smaller one, a Moroccan brand called Neo, which we wish for a very bright future. The automotive industry nowadays is more than just two manufacturing businesses; it is a complete ecosystem and industrial organization that drives the installation of tier 1 and tier 2 suppliers to achieve the highest level of cost competitiveness. Today's Moroccan platform, which is currently ranked 23rd globally, produces 526,000 cars annually, with the goal of increasing that number to 1,000,000 by 2025 and breaking into the top 20 globally, enables us to develop not only the production of cars but also the fact that more than 8,000 engineers are currently employed in Morocco to develop various automotive components. The fact that Moroccan sales of auto parts have increased by 26% despite Europe's automotive industry, for instance, witnessing a 22% market decline, may also be significant. This indicates that Morocco is currently offering a product that is on par with what the global consumer, and particularly the consumer in Europe, is seeking. In other words, a quality item at a reasonable cost, taking into account inflationary trends globally. Additionally, since the automobile sector indirectly draws in a wide range of activities, everything also creates significant prospects for the growth of other businesses and activities. Additionally, there are operations that appear to be highly successful given that 250 foreign companies have now established themselves in Morocco and are expanding not just for the Moroccan market but also for global export.
What are the three main reasons a foreign businessman should consider setting up industries in Morocco to manufacture either vehicles or car parts?
There are actually three points. First off, Morocco has excellent cost competitiveness, which means that moving your production to Morocco could result in savings of up to 20%. Second, a market that is expanding as Morocco now has agreements with 53 nations to trade duty- and customs-free, and with the Africa agreement, it will soon have access to 92 nations. This means that Morocco is no longer limited to the Moroccan market and can now export goods to Europe, the United States, and the rest of Africa. The third point is that Morocco is asserting itself in terms of expertise, or knowledge and highly trained personnel, and the fourth point is that Morocco has developed a renewable energy potential for everything that is called decarbonization and the rights of entry of certain countries between now and 2030, the energy mix will be at 32% and the Moroccan product will be very interesting in terms of quality. This is the second and most crucial point.
What do you think about the transition from combustion to electric vehicles that is taking place in Europe?
Politicians have decided to do this. As Europe has made this decision, we will have to follow it in some form as we have a very tight relationship with Europe. In any case, the client will be in the right since he will have a choice between an electric motor and a combustion engine. It must be acknowledged that the vehicle industry, as it was previously thought of, is distinct from the electric car industry. The electric motor represents a complete revolution in terms of industry. The car is a product that people buy and possess, thus the philosophy is different. There is a very specific relationship with the car; it is something quite different that is synonymous with freedom, transportation, and with many other things, making it a special notion and a type of economy. Regarding the electric automobile, we'll see if the electric component or the car component will predominate, i.e., if it's a car with digital applications, a digital application with four moving wheels, or if the digital component will. However, we are well-equipped to handle this. The first electric vehicle production trials will shortly take place in Morocco, but before then, Stellantis and Renault have both revealed plans to develop electric vehicles locally. Although it is simpler to create an electric car than a thermal one, we will study and develop the digital complimentary portion. In any case, there will be a ton of options for technology that I believe we will see in a few years, but we will be ready; the only thing we will be lacking is the technology for battery-powered electric motors. Morocco is also getting ready to produce batteries because we have the resources and access to the market; depending on the preferred technology, it may be sodium.
Conclusion
The remarkable growth of the automotive industry in Morocco stands as a testament to the nation's determination and strategic vision. From attracting international investments to fostering local talents, Morocco has positioned itself as a significant player in the global automotive landscape. The increasing production and exports, along with the establishment of advanced manufacturing facilities, highlight Morocco's commitment to becoming an automotive hub. As the industry continues to evolve, it opens doors for economic development, job opportunities, and technological advancements. Ready to explore the thriving automotive sector in Morocco? Connect with Lakshmi Motor Company today and embark on a journey of discovery and partnership in this exciting and rapidly expanding market. Let us be your guide as you tap into the immense potential offered by the growing automotive industry of Morocco.