// //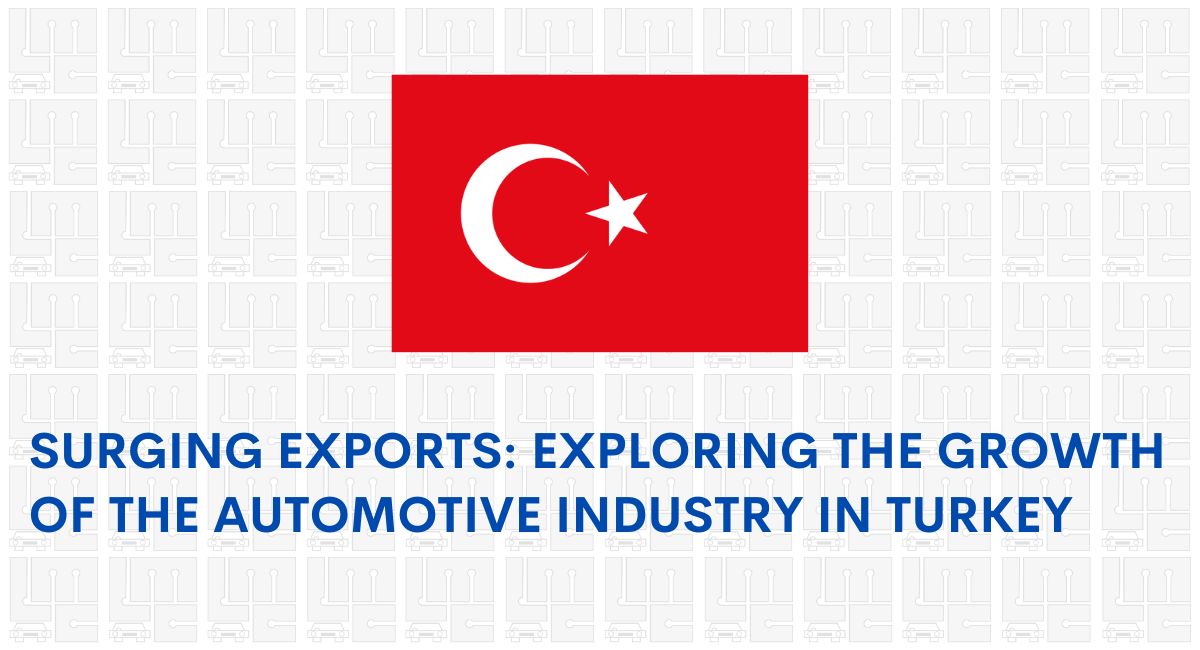 Surging Exports: Exploring the Growth of the Automotive Industry in Turkey
In recent years, the automotive industry in Turkey has undergone consistent expansion, emerging as a substantial contributor to the nation's GDP and export earnings. With an impressive car production exceeding 1.4 million units in 2016, Turkey firmly secured its position as the 14th largest global automobile manufacturing hub. Anticipations for the forthcoming year suggest a substantial surge in exports from the Turkish automotive industry, all while keeping its production growth intact. This remarkable progress showcases Turkey's prowess in the automotive arena, underpinned by skilled labor, strategic investments, and a conducive business environment. The sector's rapid evolution not only benefits the economy but also reflects the nation's commitment to innovation and excellence. As Turkey navigates the challenges and opportunities ahead, its automotive sector's trajectory continues to captivate attention on the global stage. In this exciting phase of growth, businesses, investors, and enthusiasts alike can seize unparalleled prospects within Turkey's thriving automotive landscape. Whether you're seeking market insights, expansion strategies, or partnership opportunities, the time is ripe to tap into this dynamic market. As a leader in providing comprehensive solutions, Lakshmi Motor Company stands ready to guide you through this transformative journey. Contact us today to explore how you can be a part of Turkey's automotive success story. Your future in this booming sector awaits!
Trends of Export in the Automotive Industry Sector in Turkey
The automotive industry in Turkey raised its exports from $11.7 billion in the first half of 2016 to $14.4 billion in the same period of 2017, representing a remarkable 22.4% increase over the same period, according to data from the Automotive Industry Exporters' Association (OIB). Turkey's exports of automobiles, which totaled $23.8 billion last year, are on pace to reach a record-breaking $27 billion in 2017, breaking the previous high of $24.7 billion set in 2008. According to the Automotive Manufacturers Association (OSD), Turkey's automotive industry was the country's largest exporter in 2016 with approximately $23.9 billion in exports, up from $21.3 billion in the year 2015. This represents a 17 percent share of all exports and makes the automotive sector Turkey's top exporter for the eleventh consecutive year. Currently, and this number is continually rising, the automobile industry in Turkey made up about 20% of all exports in the first half of the year.
Growing Export Market for Cars Made in Turkey
With an export value of $4 billion in 2016, Germany has so far been the Turkish car industry's top export destination. Germany saw a 20% year-over-year gain in the value of its automotive exports, followed by Italy, France, Spain, and Slovenia, which saw increases of 49%, 19%, 21%, and 18%, respectively. Nearly $19 billion worth of automobiles were exported from Turkey to EU nations. Turkey has recently established itself as one of the most popular global auto manufacturing hubs, mostly as a result of its advantageous geographic location halfway between Europe and Asia. By now, Turkey is home to more than 250 international automakers and suppliers, including Ford, Fiat, Daimler, AVL, and Segula, who conduct their design, engineering, and product development operations there. Ford, on the other hand, has one of its three global R&D centers situated in Turkey, and Fiat has its only R&D facility outside of Italy in Bursa, which serves the European market. The German bus and rail manufacturer Daimler continues to run manufacturing operations out of its Turkish R&D facility. Thousands of the top automakers in the world might be on your contact list if you sign up for Lakshmi Motor Company right now. Lakshmi Motor Company may assist you in connecting with sales prospects and decision-makers around the world, whether you're searching for dependable suppliers, leading manufacturers, wholesalers, and potential consumers in over 70 countries or want to see what your competitors are buying and which suppliers they're using. Connect, network, and conduct business with the leading automobile industry in Turkey.
Conclusion
The surging exports in the automotive industry have truly propelled Turkey onto the global stage. The nation's strategic location, skilled workforce, and commitment to innovation have all contributed to its remarkable growth. As Turkey continues to solidify its position as a key player in the automotive market, the future looks promising and brimming with potential. Are you ready to be a part of this exciting journey? At LMC, we're here to guide you through the intricate landscape of the automotive industry in Turkey. Whether you're an investor, manufacturer, or simply an enthusiast, our expertise and insights can help you navigate the opportunities and challenges that lie ahead. Don't miss out on being a part of this remarkable evolution. Contact Lakshmi Motor Company today to learn how you can benefit from the surging exports and growth in the automobile industries in Turkey. Your success is our priority.